Reading Time:
14
minutes
I have a long history of resisting winter. I blame it on the cold temperatures, the grey skies, and the darkness. I'm realizing, though, that my resistance is not just about the weather or the darkness.
I recently read Katherine May's Wintering: The Power of Rest and Retreat in Difficult Times. I started it during a much-needed, holiday-driven pause that included time away from scrolling and posting on Instagram and an overall mental break from work. It also coincided with a massive clean out of our first floor and the establishment of a simplified, make-shift kitchen in our basement. The second day of the new year delivered workers to demolish our kitchen for a long-awaited renovation (more to come on the medicine in this process).
May's book is a poetic memoir that highlighted what I've noticed in recent winters and difficult times. That is, as I heal and connect more deeply with my body, I'm more aware of the dissonance between our cultural conditioning and the flow of the natural world (and my cyclical nature). I resist winter, not so much because of the cold and the dark, but because I haven't learned how to welcome winter's medicine.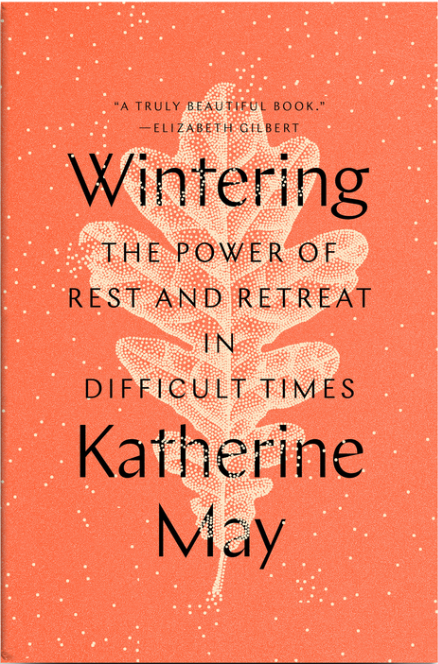 May says it eloquently in one of my favorite quotes from the book:
Plants and animals don't fight the winter; they don't pretend it's not happening and attempt to carry on living the same lives that they lived in the summer. They prepare. They adapt. They perform extraordinary acts of metamorphosis to get them through. Winter is a time of withdrawing from the world, maximising scant resources, carrying out acts of brutal efficiency and vanishing from sight; but that's where the transformation occurs. Winter is not the death of the life cycle, but its crucible.
Healing as Wintering
This post, of course, isn't just about Winter: The Season. It's also about the winters of our lives. I've made it my work in the world to serve humans in the midst of winters largely driven by a loss of health and vitality. I know this kind of winter, and I've resisted it as much, if not more than, the season.
Historically when I experienced difficult times, dis-ease, or uncomfortable symptoms, I reacted with resistance. Understandably, I wanted to ease the discomfort, so I sought something that would take it all away. In this way healing looked like doing more: more testing, more appointments, more modalities, more practitioners, more mental and emotional labor, more worrying. Resisting the discomfort by doing more is a pattern that felt familiar to me, of course. It's a pattern that contributed to my dis-ease in the first place.
But the medicine I most often needed was right inside the difficulty, the dis-ease, or the discomfort. It was inside of the very thing I resisted. The darkness of physical or emotional pain never really healed when I forced light upon it with All The Things (this is suppression, and it drives dis-ease deeper into the body). Lightness emerged on its own when I honored the darkness with resonant energy (this, by the way, echoes the Law of Similars, a core principle of homeopathy).
It still feels strange to surrender and rest in the dark with my dis-ease. But that's what wintering is about, at least in part, according to May…rest and retreat. It's potent medicine to meet darkness in this way.
Winter: This Season
In winters past I spent December not only overwhelmed by the demands of the holidays, but also frantic to reflect and plan for the year ahead. January called for urgent action. By the time February came around I (and my body) had had it with winter, and I'd not even experienced it.
Can you feel the urgency in all those marketing and self-help e-mails that bombard your inbox in the winter? They'd have you believe New Year's Day is a deadline. Less than two weeks after the winter solstice, we're pushed to DO MORE. Rest and retreat is not the dominant narrative.
Knowing the pitfalls of our culture and my conditioning, and fueled by May's inspiring prose, I'm welcoming winter's medicine this year.
My Work
I started welcoming winter by giving myself permission to NOT show up on Instagram over the holidays. For this introvert, regular posting feels like showing up to a massive party every day. It's the antithesis of wintering. Being away from IG felt nourishing. So I'm exploring a shift in my relationship with it this season. If you usually interact with my content there, please join me here on the blog and in my community of subscribers. I think these will be the spaces where I can continue to share in a way that nourishes me and others.
I've also decided to ease into action. I have a vision and intentions for how I want to serve others' in living full and aligned lives through homeopathy and connection. But first, I pause and rest more.
While my outlines are loose and my movement is slow, I invite you to check out the Office Hour sessions I'll be hosting in 2023. They have a new look and feel…I'm excited to share these sessions with you. Registration will open in a few weeks.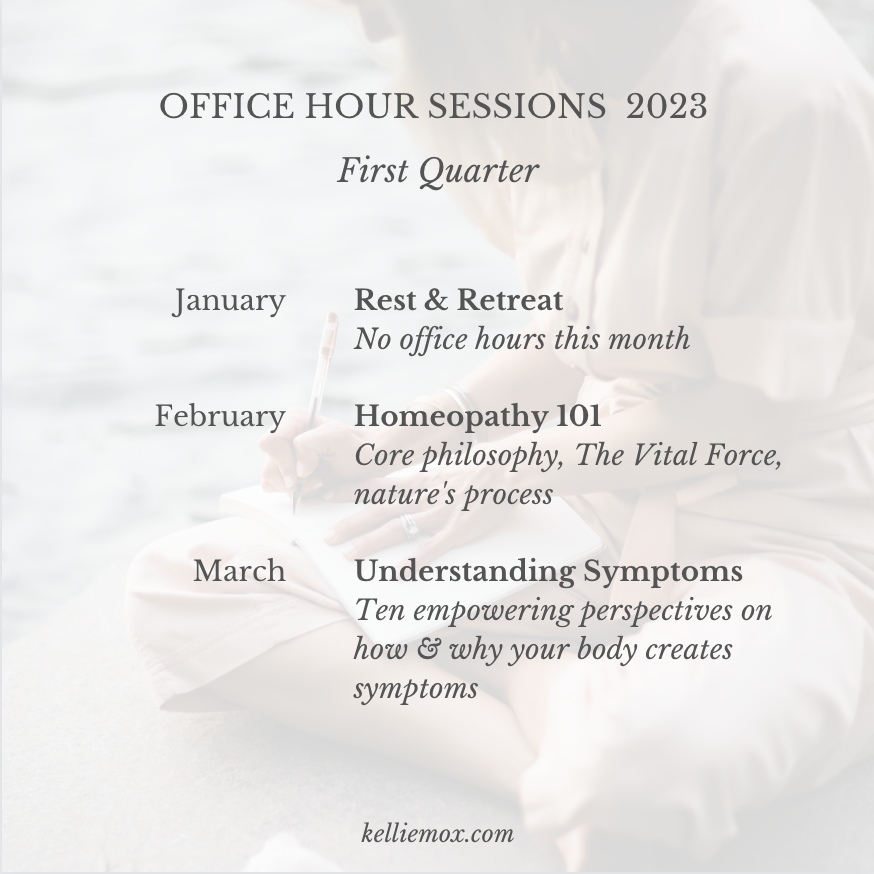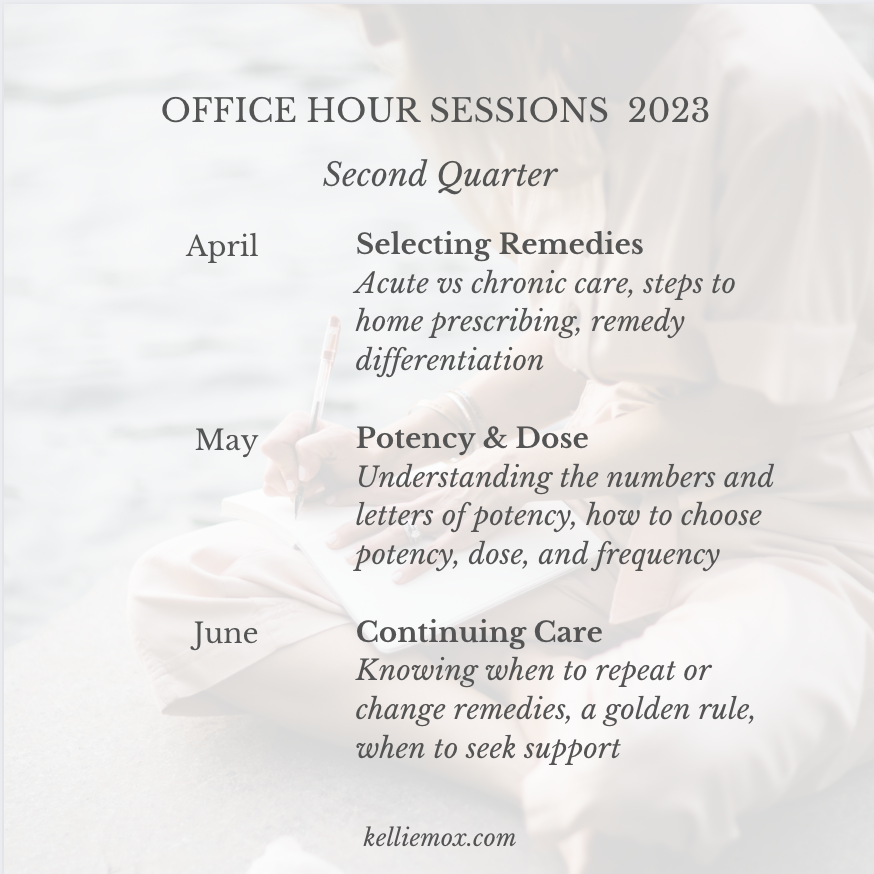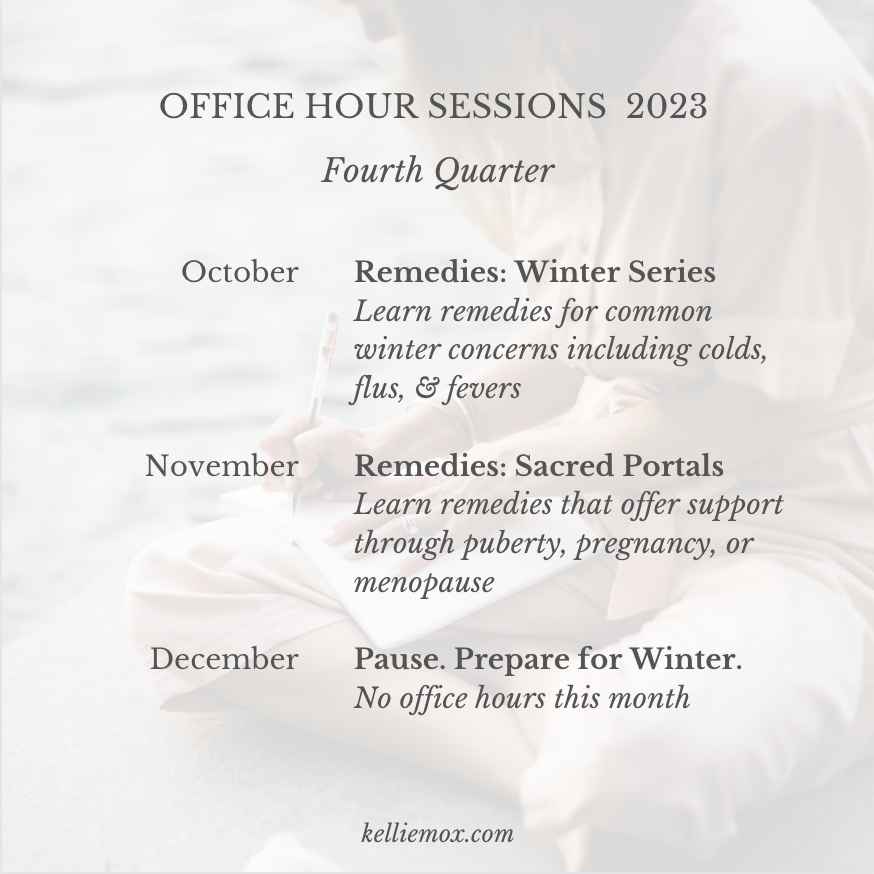 Know, too, that I am accepting new clients for homeopathy and coaching. My partnerships are my priority.
And the Vital Force podcast with Krista and Paula continues…it's one my favorite things that I get to do, having meaningful conversations with two wise, inspiring women. Every time we meet feels like a nourishing retreat.
Winter's Medicine
I'll leave you with this quote from May's book that speaks to why I'm here, sharing my medicine, my cyclical healing journey, and homeopathy with you:
Here is another truth about wintering: you'll find wisdom in your winter, and once it's over, it's your responsibility to pass it on. And in return, it's our responsibility to listen to those who have wintered before us. It's an exchange of gifts in which nobody loses out.